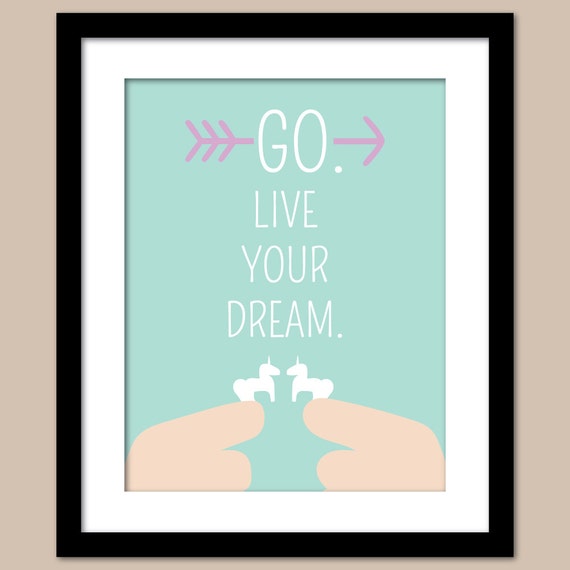 As part of our on-going series, Sitting with Grandmother Willow, I am happy to introduce you to Heather of
The Happy Haunt
. This series of blog posts highlights artists and fellow bloggers of all stripes with one thing in common: a passion for Disney!
Heather has incredible planning tips and planners, digital prints and parties ideas and tools in her
Etsy shop
? My favorite print from Heather's shop is the Live Your Dream print shown here! Be sure to check all of them out
and
visit her blog; there's something for everyone. I'm so glad Heather could join us on the blog this month!
Disney by the numbers (with apologies to Harpers):
# of trips you have made:
I have been to Walt Disney World 8 times. I have been on a school trip, with extended family, on a surprise trip my husband and I planned for my sisters, on a whirlwind trip courtesy of the Walt Disney company to shoot a spot about our family for the Christmas Parade, as a couple sans children, as a very pregnant lady and with a one year old.
Date of first trip:
I was kind of a late bloomer by Disney fanatic standards. I didn't visit until I was going into my senior year of high school. It was a high school marching band trip and we only visited the parks for one day. We could choose which park we wanted to visit and I went to EPCOT. Little did I know at the time, it turned out to be my favorite of the four!
Date of next trip:
We will be in The World this coming May to celebrate my husband's graduation from nursing school.
# of Resorts stayed in:
We have stayed at 4 resorts. The best one was the Boardwalk (especially since Disney paid! Free is always better.)
Usual # in your travel party:
As you can tell from my variety of trips, there isn't really a "usual".
Pairs of mouse ears in your cottage:
I have actually never purchased a pair of ears!
WDW or Disneyland (or other)?
Walt Disney World by default. I have never been to Disneyland, but hopefully I will make it someday.
How do you usually travel to Disney?
I have driven in a bus, driven a minivan and flown. We have flown most often and it is wonderful! It actually take less time for us to fly to Disney than it does for us to drive to NYC (which we do quite often).
Do you have any tips for trips?
Oh my goodness... this is a loaded question! There are countless sources of information out there so I will try not to repeat what everyone else has already told you. Except to do your research because that tip is so very important.
My top tip:
try not to have too many expectations. Your plans will almost always change. It doesn't always go the way you planned or imagined it. Sometimes, it is disappointing, but it can also be a wonderful bit of unexpected magic. Don't be so rigid in your touring and timing that you don't allow for spontaneous fun. On your way to make your fastpass for Tower of Terror, but happen upon the Citizens of Hollywood? Stop and watch! Are you trying to get to the Polynesian in time to get a Dole Whip and watch Wishes from the beach, but your little one is absolutely enthralled with the indoor play area at the Dumbo ride? Stay and play, grab a funnel cake and catch the show from Storybook Circus. It may not be the best place to watch Wishes, but it beats a toddler meltdown!
Do you have a favorite place to eat while in Disney?
This is like asking me to choose my favorite child. If there is one thing I dream about when I am not at WDW, though, it would have to be the Sweet and Spicy Waffle Sandwich from Sleepy Hollow Refreshments in Liberty Square.
Or the Mediterranean Chicken Wrap at Tangerine Cafe in EPCOT. I have such fond memories to stopping here for dinner and eating outside. I can just see the glow of the lights and hear the people passing by. It is not a bad place to watch Illuminations from, either ;)
I swear I have eaten at a ton of great table service restaurants, but the counter service options are even better sometimes!
What is your absolute DON'T MISS attraction?
This is going to sound totally crazy, but I can NOT visit WDW and pass by Spaceship Earth. If I don't ride it, my vacation is not complete.
Stage shows, yes or no?
It depends. I am definitely not standing in front of the castle with 1,368 other people to watch the afternoon show. I do love the shows I can sit down in a theater and watch, though. Finding Nemo the Musical has to be one of my favorites. It reminds me of the puppets they use in Lion King on Broadway and the production value is right up there as well.
These kinds of shows can give you a welcome break in an air conditioned space. Time your attendance to get out of the heat at the peak of the afternoon or get out of the rain during the inevitable 4:00 downpour.
Parades, yes or no?
Eh. If I am there at a slow time that I don't have to fight the crowds and I HAPPEN to be passing by the parade route as the parade is happening, sure. Otherwise. I take advantage of the shorter lines at the popular attractions.
Best Fast Pass to get:
Toy Story Midway Mania without a doubt. This queue is a bunch of switchbacks all in one room that you have to listen to Potato Head on a loop for, sometimes, upwards of an hour. There is a lot to look at, but by the time I get halfway through I am seriously considering skipping the attraction so I don't have to hear one more word out of his mouth.
Favorite park:
EPCOT. Enough said.
One piece of advice you'd give a novice about WDW/DL:
Don't eat burgers and chicken nuggets your whole trip. The food is, hands down, my favorite part of a Disney vacation. Even if you are only eating counter service there is so much good food for you to eat. Do some research and find out where to go to make some memorable dining choices.
How do you create extra magic for your family?
Probably the most "magical" thing I have done for my family is to plan their first trip without them knowing. We had Disney movie nights every week for a year and then surprised them with the vacation. They were SO excited!
How can we connect with you?
You can visit me at
www.thehappyhaunt.com
. You will be able to find all of the links to my shop, blog, and social media accounts there. I hope to see you all soon!