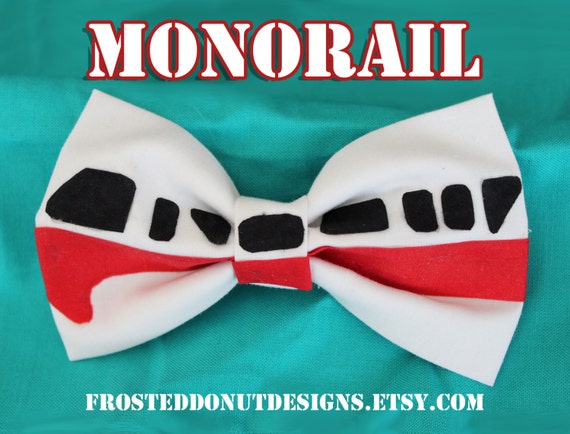 As part of our on-going series, Sitting with Grandmother Willow, I am happy to introduce Molly of
Frosted Donut Designs
, a very well stocked Etsy shop. This series of blog posts highlights artists and bloggers of all stripes with one thing in common: a passion for Disney! I hope you will enjoy getting to know Molly as much as I have. A big thanks to her for taking the time to interview with us! And be sure to visit her shop for a great selection of Disney themed bows! Don't you just love this monorail bow?? It was had to choose between this and the Poppins bow...oh and the Alice one too....be sure to check them all out!


Disney by the numbers (with apologies to Harpers):


# of trips you have made:

 About 10 times! Would probably be more if we didn't live overseas for about 5 years.
Date of first trip:

 I'm thinking around July 1993…I was about 3 years old.
Date of next trip:

Most likely April; we are trying to get down there before the Mine Train opens and the crowds get crazy.
# of Resorts stayed in:

We are all over the place with resorts. We stay off property some, at Universal some, as well as Disney…really just depends what we are there for. I am pretty sure we switched resorts a few times when I played volleyball at the Wide World of Sports arena so there is no telling!
Usual # in your travel party:

Always either 4 (my whole family) or 2 (my mom and I)!
Pairs of mouse ears in your cottage:
This is sad…but like one? I don't even know where they are! I'm always trying to buy t-shirts and I forget about ears.
Plus, I tend to accessorize with bows!

WDW or Disneyland (or other)?

Never been to DL…yet. So WDW!
How do you usually travel to Disney?

Usually…by car. It's not too bad of a drive, but it's fun when we fly.
Do you have any tips for trips?
Research, research, research! It's always good to know where you can get the best deal for everything. If you search different dates on the Disney Resorts site, they will tell you what dates have discounts. As well as know where you would like to eat. It can be a bit daunting with all the restaurants and now knowing what to try. Pick out things that are special to Disney (like Lefou's Brew…yum!) and go for that!
Do you have a favorite place to eat while in Disney?

Well a favorite place of ALL Orlando is Tijuana Flats. If you like Mexican food, it's a must try. In Disney Parks I would say…can I cheat and say all of the World Showcase? I can't chose just one! They are all so good. And I definitely like to eat.
What is your absolute DON'T MISS attraction?

Tower of Terror. Not only is it an awesome ride and fantastically themed, the wait is usually way lower than other thrill rides.
Stage shows, yes or no?

 Yes! Depending on how much time we have allotted for the park that day, we usually build our day around shows we would want to see.
Parades, yes or no?

I'm either way on this. I love watching them, but we never scope out a spot or anything to get one. We usually just catch when we are in between rides. Although there always seems to be one going when we enter the park, so we tend to stop for that one.
Best Fast Pass to get:

Test Track, but you have to be there at opening to get it. Most insane lines I've ever seen!
Favorite park:

Hollywood Studios. I love the sets and vibe, plus I could probably ride Tower of Terror and Rock 'n' Roller Coaster a hundred times in a row. And Star Wars weekends! Need I say more?
One piece of advice you'd give a novice about WDW/DL:

 Plan…but do not plan to much. A lot of times I feel like families plan every minute of the day out, which may work sometimes, but it can stress everyone out. Have an idea what you want to do, and make ADR's where necessary, but if you want to ride Space Mountain instead of your original plan of meeting Tinkerbell…do it!
How do you create extra magic for your family:
I am the one who obsessively reads about Disney whether its new stuff, history, food, tips and tricks…you name it. So I always try to sneak in one thing that each person will love. I think taking the time to schedule something you might not otherwise do, but you know that one person will love, absolutely makes the trip magical for them.
How can we connect with you?

Tumblr:
www.frosteddonutdesigns.tumblr.com
Instagram: FrostedDonutDesigns
Facebook:
www.facebook.com/frosteddonutdesigns
Twitter:
www.twitter.com/FDonutDesigns
And as always, you can use #FrostedDonutDesigns!