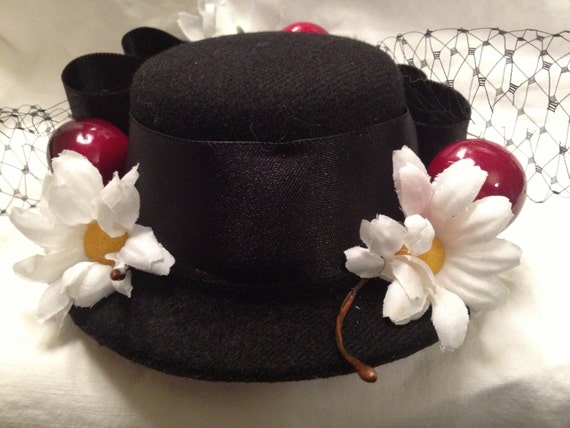 As part of our on-going series, Sitting with Grandmother Willow, I am happy to introduce Dodie of Designs by Dodie, an Etsy shop. My favorite item in her shop may be this fabulous Mary Poppins inspired fascinator! But there is so much more to see, including zipper pulls, wine charms and even those Disney park map coasters!
This series of blog posts highlights artists and bloggers of all stripes with one thing in common: a passion for Disney! I hope you will enjoy getting to know Dodie as much as I have. A big thanks to her for taking the time to interview with us! And be sure to visit her blog and her Etsy shop for a wonderful selection of Disney themed goodies!
Disney by the numbers (with apologies to Harpers):
# of trips you have made:
approximately 30
Date of first trip:
1974 – with my parents when I was 13 – when it was just the Magic Kingdom. I remember seeing a band play near Tomorrowland. They were dressed in sparkly white jumpsuits and played "dance music." I loved them, so I remembered their name later when they actually became a hit – KC and the Sunshine Band. I also remember my dad rationing out those E-Tickets.
Date of next trip:
A girls weekend March 6th!
# of Resorts stayed in:
I actually just figured this out recently! I've stayed in 14 of the resorts!
Usual # in your travel party:
My husband (Phillip) and I! He'd never been when we stayed in what was then Dixie Landings on our honeymoon. We bought Disney Vacation Club and haven't looked back – making far over 20 trips in the past 20 years. That said, we have a group of great friends from all over the country who are Disney fans as well (met online several years ago). We often travel with them or schedule our trips for the same time so we're there together. I sometimes take girls' trips down with a group of the gals from that group also! (I have more vacation time than my husband does and I have an Annual Pass!)
Pairs of mouse ears in your cottage:
Tons! Maybe 10 pair? I have some Minnie Mouse ears on a headband that I wear typically. A friend in our group makes special themed bows for them, so we can be unique while we're at the parks!
WDW or Disneyland (or other)?
Both, but mostly Walt Disney World. We've been to Disneyland twice and plan to go back in December of this year.
How do you usually travel to Disney?
We fly from Indy to Orlando.
Do you have any tips for trips?
Take your time. Enjoy being in the "magic bubble" away from the real world. Don't overschedule yourself.
Do you have a favorite place to eat while in Disney?
My favorite restaurant is Narcoosee's. Yum!
What is your absolute DON'T MISS attraction?
Phillip and I are HUGE Haunted Mansion fans!
Stage shows, yes or no?
Hardly ever.
Parades, yes or no?
Usually not – we take advantage of that time to grab attractions with shorter wait times
Best Fast Pass to get:
Soarin'
Favorite park:
Phillip's is the Magic Kingdom, but mine is EPCOT
One piece of advice you'd give a novice about WDW/DL:
You absolutely cannot see or do it all on your first trip, no matter how long you stay. Do your homework and cover your top priorities. Once you go, you'll go back again anyway. Trust me.
How do you create extra magic for your family:
I still look at park hours beforehand and make some sort of schedule, even if it's just which park(s) we'll visit on which days. That allows for extra magic because there isn't a lot of "what do you want to do today?" "where are we going this morning?" discussion. We make magic as soon as we arrive!
How did you come to this time and place on Etsy?
I was a passenger in an automobile accident last May. A girlfriend and I were actually on our way to the airport for a girls' trip (where we were meeting 14 other gals and staying in one of the Treehouses and at Saratoga Springs in some studios) when a box truck ran a red light and totalled her car, injuring both of us enough to earn us a trip to the ER instead of a trip to the airport.
We easily could have both been killed. The wreck was that bad. It was quite an awakening for me. I had an epiphany. I wasn't balancing my work life with the artistic and crafty yearnings I have always had. I needed to do something that made me happy. What was I waiting for?
I opened my Etsy shop in June of last year and haven't looked back. Because one's art reflects themself, Disney-inspired items gradually became a primary theme for my store - so much so that I devoted a whole section to those items.
How can we connect with you?
www.Etsy.com/shop/DesignsbyDodie
(Check out the Disney-Inspired section!)
www.pinterest.com/dodie_sheffield/designs-by-dodie-on-etsycom/
www.Facebook.com/DesignsbyDodie