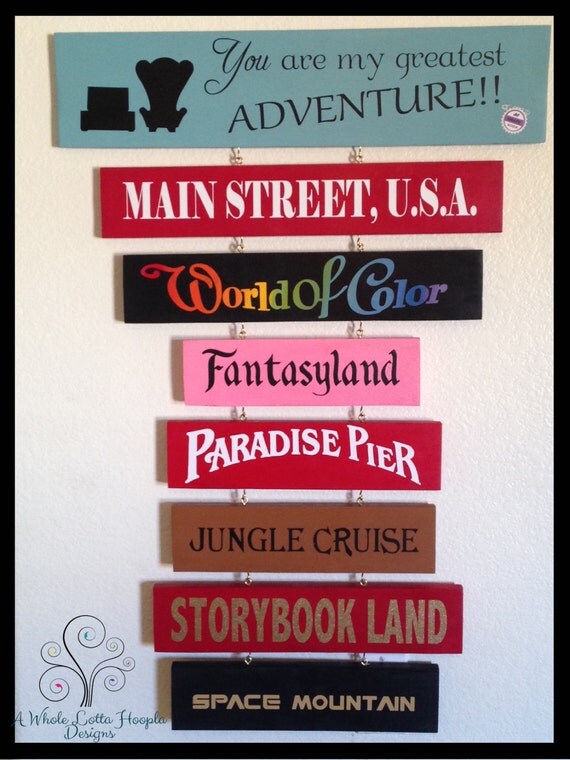 As part of our on-going series, Sitting with Grandmother Willow, I am happy to introduce April of
A Whole Lotta Hoopla
, a lovely Etsy shop. This series of blog posts highlights artists and bloggers of all stripes with one thing in common: a passion for Disney!
April has a series of unique Disney inspired wooden signs and graphic designs. And most of them are customizable! I hope you will enjoy getting to know April as much as I have. A big thanks to her for taking the time to interview with us! And be sure to visit her shop for a great selection of Disney themed signage!
Disney By The Numbers (with apologies to Harper's)
Date of first trip:
Oh my...hmm, I would have to say...when I was 10? I think so. My parents adopted me when I was 10 and since we lived in San Diego, we hit all the amusement parks/zoos/activities we could think of that first 6 months or so!!
Date of next trip:
Not soon enough!! LOL Seriously, I get asked that question multiple times a week by one of our 3 boys. We do have passes, so it will be soon!
# of Resorts stayed in:
Hmmm...well, I've stayed at the Disneyland Hotel before for one night eons ago. My family and I have been blessed with the opportunity of staying for a week at the Grand Californian at California Adventure...which we promptly fell in love with and think of as our home away from home!!
Usual # in your travel party:
5....although my hubby and I did get to go all.by.ourselves for our anniversary last year!
Pairs of mouse ears in your cottage:
Hmm, 4 I think?
WDW or Disneyland (or other)?
Disneyland, definitely, though we normally hit both DL and California Adventure when we go. I have been to WDW once, eons and eons ago...like waaaaay back in ''93?, lol, but it was just for the day, and not even all day, and I don't remember most of it. However, I've been going to Disneyland since I was 10, and even though we've been sooo many times, there's still new things to see and do every time!
How do you usually travel to Disney?
Walk. (no, not really, though my boys ask if we can move closer so we could do that!! That'd be fun, don'tcha think?) We drive there as it's about an hour away from where we live. Although, since we live in Southern California...I should say it's an hour DOT (depending on traffic)
Do you have any tips for trips?
Definitely bring water bottles as Disney filters their water so it's good stuff (I'm picky about my water) and you can refill all day for free which is handy when you're walking all over getting thirsty!! Also, grab an app for your phone like MouseWait so you can see how long the lines are ahead of time or how crowded the parks are before you get there so you can plan out what rides you want to hit. Plus, having an app like that is helpful to know what rides/attractions are closed for repair, whether it's closed for the season or even if it just broke down. Many times we've gone and planned to go on a certain ride and checked MW only to see it just broke down. We keep checking it and head over when it shows it's back up and running again. Also, for busy days...if you have passes, check out parts of the park that aren't ride heavy and just slow down and enJOY your time there!! We did that one day last year when the park was pretty packed. We spent most of the day in just one 'land', taking it easy and enjoying the things we miss when we're in a hurry to 'get to the next thing'. However, if you're only there for the day, again, try to plan your rides/attractions ahead of time, based on what you REALLY wanna do that day, take advantage of FastPass when you can and then just relax and have fun!! If you don't get to see every thing (and you won't) or get to go on every ride (again, prioritize which ones you don't wanna miss!) you're still going to have a better day than being home or at work and just enJOY Disney!! So just go with the flow...which, on really busy days is all you can do! Be sure to stop by City Hall and get a pin whether it's your first time, or if you're celebrating something special, or just because! Take lots of pics, and don't forget to BE in some of them, not just behind the camera!!
Do you have a favorite place to eat while in Disney?
Rancho Del Zocalo in Frontierland in Disneyland! First...it's Mexican food (my fav!) 2, the portions are LARGE and oooooh so good! And if you get sodas, there's FREE REFILLS!! Did I mention it's really good????
What is your absolute DON'T MISS attraction?
Pirates of the Caribbean! Star Tours! California Screamin'! Innoventions (seriously, it's such a great place to go to 'relax', get out of the heat/rain/cold and there's cool things to look at! Right now it's Iron Man but they're bringing in more Marvel guys, plus the 'house of tomorrow' is so much fun. There's even story time in the 'kids' bedroom that's themed like Peter Pan, complete with a bed shaped like a ship!
Stage shows, yes or no?
Yes, though it's been awhile since I've seen one! Normally, our trips are based on what our boy's wanna do, which is rides, rides, rides! And food. Gotta have food.
Parades, yes or no?
Definitely! They're so much fun, very lively and you'll get the songs stuck in your head! =P
Best Fast Pass to get:
Radiator Springs Racers right now, because it's still new enough that the lines are crazy long, like 1.5-2 hrs!
Favorite park:
Disneyland. It's the original!! California Adventure is awesome and we love it so much, and all the parks at WDW are awesome and we can't wait to go over and play there for a week or two, but Disneyland is still my favorite. To walk where Walt walked, to see the park through his eyes (and yes, obviously it's changed a lot!) it's just so magical!!
One piece of advice you'd give a novice about WDW/DL:
Take the time to notice the details! Everywhere you look, attention has been given to all kinds of little things here and there. Accept that you won't be able to fit it all in one day (or even one week) and just choose to soak it in as much as you can and just enJOY!
How do you create extra magic for your family:
We collect pins, so we get a new one for everybody once in awhile. We also bought gift cards for our older boys (11 and 14) which are reloadable at the parks, so they earn money at home and then have some to spend at the Parks, which they really like.
How can we connect with you?
We have a website, and a blog we're just getting going. We're also on Facebook, Pinterest, Twitter and have our shop on Etsy.
www.AWholeLottaHoopla.com
- Website
www.AWholeLottaHoopla.com/Choosing
Joy - Blog
www.facebook.com/AWholeLottaHoopla
- Facebook page
www.etsy.com/shop/AWholeLottaHoopla
- Etsy shop
www.pinterest.com/LottaHoopla
www.twitter.com/A_W_L_Hoopla